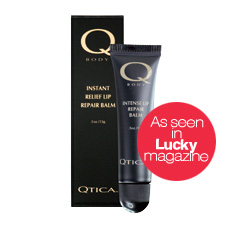 Qtica Intense Lip Repair Balm
What is Qtica Intense Lip Repair Balm
The one and only lip repair balm that Lucky Magazine called "...only lip treatment worth buying.." Qtica Lip Repair Balm works miracles on dry cracked irritated lips.
What Qtica Intense Lip Repair BalmDoes
Offense or defense? Nourishing maintenance for healthy lips or serious repair for lips that go beyond chapped - QTICA Intense Lip Repair provides both. The rich, thick concentration of honey, beeswax, vitamins, aloe, tea tree and essential oils defends against the elements and helps relieve and seal the most dry, irritated lips overnight. See an instant improvement in lip skin and trap moisture before applying lipstick for longer-wearing color. This isn't your little sister's lip gloss - this formula is used by spas, salons, dermatologists, athletes and celebrities.
How to Use Qtica Intense Lip Repair Balm
Professional use: Apply to lips during any facial service.
Home use: Apply daily to insure soft, supple lips.
Product Name
price
We Also Recommend
People Who Bought
Qtica Intense Lip Repair Balm

Also Bought