Professional Accounts
Licensed salon & spa professionals can set up a Professional Account which entitles them to professional only pricing, professional only promotions and additional educational and marketing resources available to our salon & spa customers.
If you already have a Professional Account with us, please sign in below with your email and password in the "Sign In to My Professional Account" section.
To create a Salon - Spa Professional Account, please enter your email and a valid Cosmetology License in the section called "Create a Professional Account" below and click the "Create Account" button. You will then be asked for additional information.
Sign In to Your Professional Account
Create a Professional Account
Welcome!
Please Choose One:
Or

tell us
what
you think!
Add
Zoya Armor Top Coat 0.5oz
to :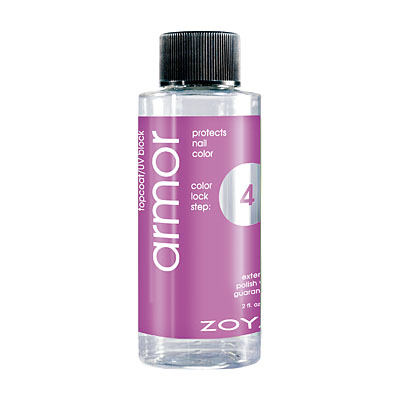 Add
Zoya Armor Top Coat 2oz ZTAR0P
to :
Zoya Armor is the world's strongest and most flexible top coat for protecting natural nails and extending the wear and shine of nail polish.
Nails are ready to take on the world with Zoya Armor Topcoat & UV Blocker. Add a protective, ultra-glossy, flexible shine to nail color and prevent exposure to yellowing UV rays. The super-brilliant, ultra-strong and flexible topcoat provides a chip-free coating to defend nail color against wear and tear.
PLEASE NOTE: The 2oz Pro Refill (ZTAR0P) does NOT come with a brush.
Apply one coat over nail lacquer. Re-apply every two days for extended color wear.
Average Rating
Write a Review
Read Reviews( 12 )