Page top
Skip top navigation
Professional Accounts
Licensed salon & spa professionals can set up a Professional Account which entitles them to professional only pricing, professional only promotions and additional educational and marketing resources available to our salon & spa customers.
If you already have a Professional Account with us, please sign in below with your email and password in the "Sign In to My Professional Account" section.
To create a Salon - Spa Professional Account, please enter your email and a valid Cosmetology License in the section called "Create a Professional Account" below and click the "Create Account" button. You will then be asked for additional information.
Sign In to Your Professional Account
Create a Professional Account
Welcome!
Please Choose One:
Or
Back to top
feedback
tell us what you think!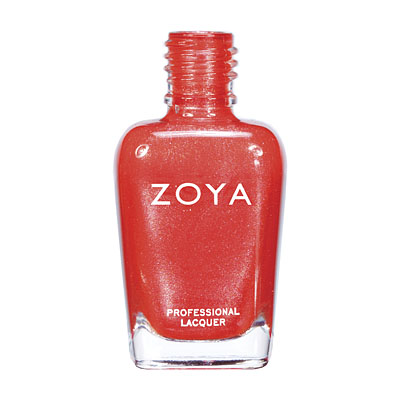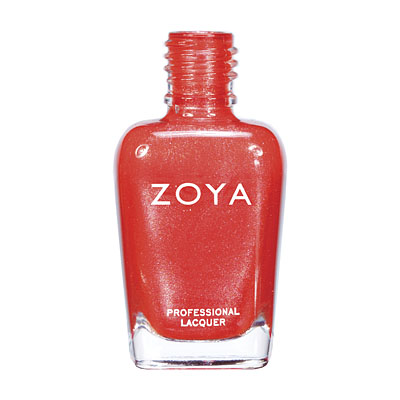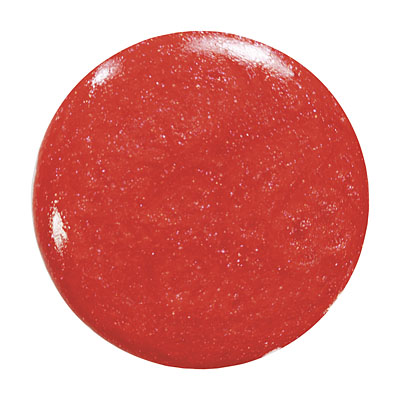 Myrta by Zoya can be best described as a warm medium orange coral with red undertone, gold and silver metallic shimmer, and a foil-like finish. The coral color of Myrta is soft, but the foil finish gives it added warmth and glow.
Color Family - Orange, Red
Finish - Metallic
Intensity - 5 (1 = Sheer - 5 = Opaque)
Tone - Cool

For Best Results
Step 1: Clean the nail plate with Remove Plus ( Remove ) nail polish remover and nail plate cleaner
Step 2: Choose and apply the right base coat: Zoya Anchor for regular healthy nails or Zoya GetEven for nails with ridges
Step 3: Apply 2 coats of your favorite Zoya Nail Polish Color
Step 4: Apply a coat of Zoya Armor Top Coat
Step 5: Drop one drop of Zoya Fast Drops to the base of your nail bed
Following these 5 steps guarantees up to 14 days of wear on natural nails.
Shade Spotlight
Shade Spotlight Join our community - Tag your photos #EverydayZoya for a chance to be featured here!
View the Gallery
Ratings & Reviews
Summary:
7 Review(s)
Question(s) & Answer(s)
7/30/2012
helenabear
Zoya Nail Polish | MyrtaLovely color
I knew I had to have this color the moment I saw it advertised. It is a beautiful red-orange color full of sparkle. It is a little hard to remove but it goes on beautifully and lasts quite a while. Very happy with this color!
7/27/2012
polishmepink
Location-Castleton, NY
Zoya Nail Polish | Myrtajust okay
I was expecting a brighter color,for summer. This was more like a fall color to me. I wore it for 2 weeks for mani and pedi,getting nails repolished at one week, but it stained my nails so bad. It does have great staying power, which is because of metallic shimmer. Not sure I will wear it again because of staining. I wanted a coral oolor for a change, but I guess I am really a pink lady,so I will stick with those.
6/24/2012
MsM
Location-Ohio
Zoya Nail Polish | MyrtaGORGEOUS COLOR
I love this beautiful shade of metallic orange. It`s very close to a bright copper foil. It goes on very smooth and two coats provides you with complete coverage. Color was still true after an super shiny topcoat was applied. I did not give it 5 stars because I experienced a bit of chipping on my thumb on the first full day of wear. Next use I will try a different topcoat. Overall, Myrta is an excellent polish with gorgeous color and a new favorite.
6/19/2012
rose007
Zoya Nail Polish | MyrtaMy new favorite color
I love this color! I am fair skinned, blue eyed, and usually avoid oranges (in polish, clothes, etc.) because it seems like a color that flatters darker complexions. This one is just coral/pink enough to avoid looking weird with my pale skin and pass for more of a peaches n cream effect. Its really pretty -- don`t be scared off by the metallic effect, its subtle and perfect. Only one coat necessary for opacity. I think this will be my go-to "neutral" to wear to work. Seriously, I love it that much.
6/16/2012
Whitley
Location-USA
Zoya Nail Polish | MyrtaAMAZING!!!
This is such a beautiful polish!! The swatches do not touch how gorgeous this polish is in real life. I can not get enough of it!!
6/14/2012
Pamela
Location-Ohio
Zoya Nail Polish | MyrtaLove this color!
Very pigmented, goes on smooth as glass. One medium coat will give you a very teeny amount of vnl. Another coat & there`s full coverage. Dry time is faster than most & the color is just beautiful!
5/13/2012
raina
Zoya Nail Polish | Myrtalove it!
very pretty! definitely more on the orange side that pictures; my toes look like metallic pretty goldfish :) can`t wait to try on my fingernails as well!
Back to top