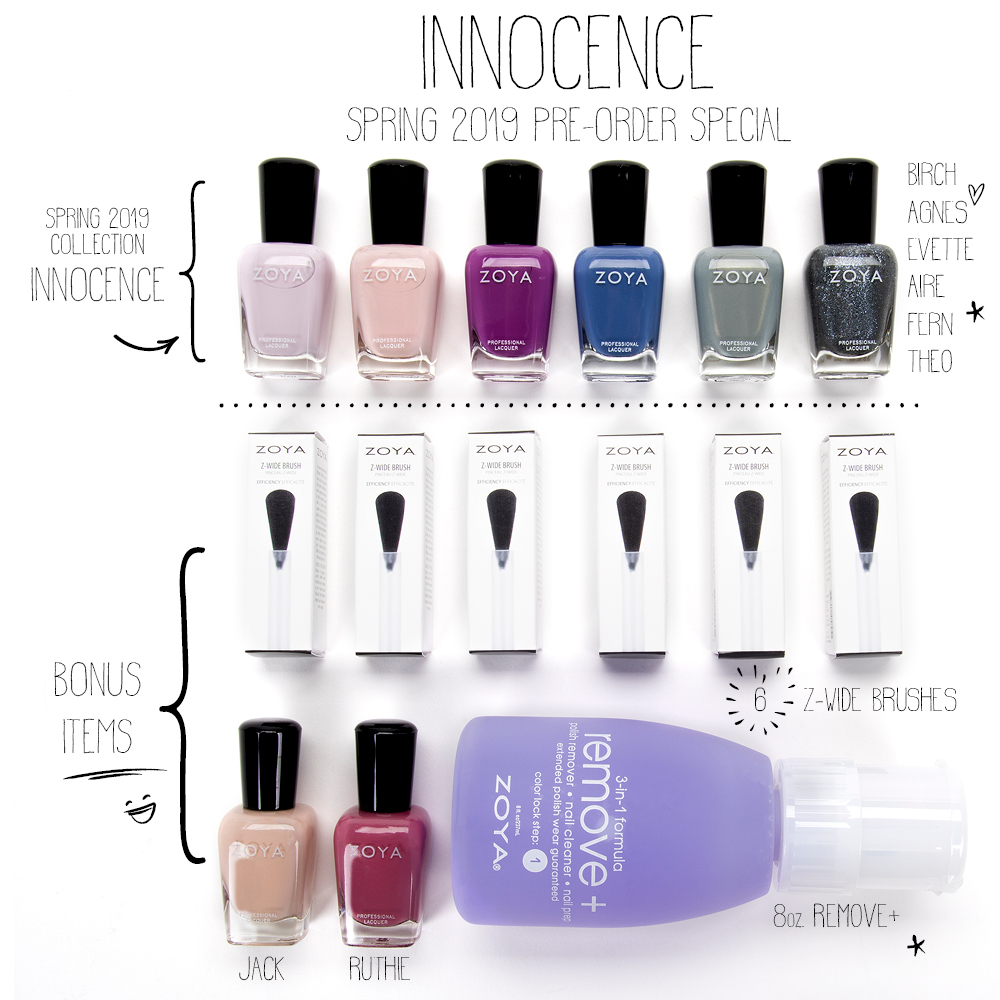 Spring is ALMOST here!
Introducing INNOCENCE, the newest collection by Zoya for Spring 2019 that is evocative of nature and the transitions from Winter to Summer. Complete with its own thunderstorm in the color Theo, this collection is stormy and subtle, yet features a touch of brightness and softness.
Try Innocence with our special Pre-Order!
Buy the 6-piece collection, and receive 6 Z-Wide Brushes, a Remove Big Flipper, and a cute duo box featuring two of our favorite nudes (Zoya in Jack, and Ruthie) in Full size bottles.
Click "Add to Bag" to add the Innocence Collection and free gifts to your cart now. Shipping is included, no code needed! Get it now - 2/4/19 (11:59pm ET) OR While Supplies Last.
*Terms & Conditions Valid online only at www.zoya.com through 1/4/19 (11:59pm EST) or While Supplies Last. Offer only available for the Innocence Pre-Order deal. Continental US and Canada Accounts ONLY. International Processing Fee Applies. Returns or exchanges of promotional items not permitted. No code needed. No Limit. Cannot be combined with other coupons or codes. Items included in box: Innocence Collection in Full Size .5oz bottles, Remove Big Flipper, 6 Z-Wide Brushes, Special must-have nudes Duo in the colors Jack and Ruthie in Full size .5oz bottles. Code must be entered at time of purchase. Code cannot be reinstated on canceled orders. Please allow up to 4 weeks for processing if volume warrants it.
Watch The Innocence Video Below: