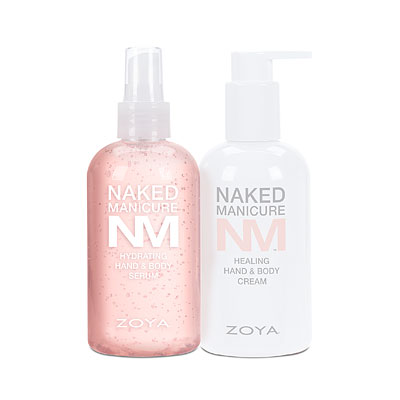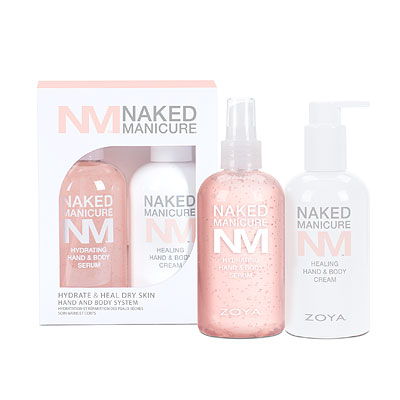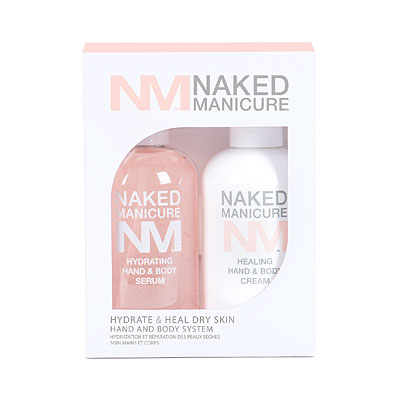 Hydrate & Heal Dry Skin Pro Kit
Hydrate & Heal Dry Skin Retail Kit contains a 8oz spray bottle of Hydrating Serum, a 8oz pump bottle of the Healing Dry Skin Hand and Body Cream and instruction booklet.
The Serum is a targeted formula of moisture imparting hyaluronic acid (HA), and powerful antioxidents instantly improve the visual appearance of hands feet and body. The unique spray serum quickly absorbs and provides lasting results without residue. Continued use will reduce dryness and improve skin tone. Follow with HEALING DRY SKIN HAND AND BODY CREAM to lock in moisture.
The Cream is a light, non-greasy, yet powerful and moisture-rich souffle style lotion delivers moisture to instantly improve the look and feel of dry, rough skin on hands, feet and body. Use alone or over the NAKED MANICURE HYDRATING HAND AND BODY SERUM to lock in moisture and give hands a younger, smoother look and feel.
Hydrate & Heal Dry Skin Pro Kit
Instructions
CREAM: Apply to desired areas of body, hands and feet and massage. Ideal for anytime home use or as part of insalon spa manicure and pedicure service. User ofver HYDRATING HAND AND BODY SERUM for optimal results. Not intended for use on neck or face.
Spray over hands, body or feet and gently massage. See results of softer, smoother, more hydrated and even looking skin almost immediately. Optional - Follow with NAKED MANICURE Healing Dry Skin hand and Body Cream to help lock in moisture. Non inteded fo use on face or neck.
FAQ
Q: Can I use the Serum and Cream on Neck or Face?
A: We strongly advise not using the Cream or Serum on neck or face as these parts of your body are very sensitive and that was not the original intent of these products.
Shade Spotlight
Shade Spotlight Join our community - Tag your photos #EverydayZoya for a chance to be featured here!
View the Gallery
Ratings & Reviews
5

Review

s

Please sign in to write a Review



Mariecabbit
Consumer Review
-Best ever!
1/25/2019
Rheumatoid arthritis and the meds to control it have given me dry, itchy, sensitive skin that cracks easily. I`ve spent a lot of money on different lotions, creams and serums and this is the only one that has helped completely. My skin was better after the first use and the effects lasted for a couple of days. A little bit goes a long way.
-Nail Tech
10/2/2018
I love this kit! My hands were dry, cracked, and aged. The serum is magical. I will be getting the larger bottle.
KB
-Seattle, WA
Consumer Review
-Love this!
5/4/2018
I`m a huge fan of the Naked Manicure. It`s quick and easy to use and makes my hands and nails look amazing and feel so soft. Definitely try!
Megan
-Canada
Consumer Review
-Incredible
4/18/2018
I received this with my earth day order and I am blown away. I tried it once and instantly saw a difference in my hands as they claim. I deal with hand eczema and live in Canada, so dry hands is a big issue for me! Both products sank into the skin almost instantly which is another thing I was really impressed with. I`ll definitely be buying the full sizes when I run out!
TMac
-Chesaning MI
Consumer Review
-Wow !!!
3/13/2018
Tried the hydrate and heal kit today. I am truly impressed ! My hands looked 10 years younger - INSTANTLY. They feel smoother and softer. The smell is very mild and very nice. Hey - did I say my hands look great ? This is an Amazing product. I have a feeling I will be back for more.
Add a Review
Review Guidelines
We want to publish your review.

Please avoid inappropriate language, personal contact information, other brands, and external links.