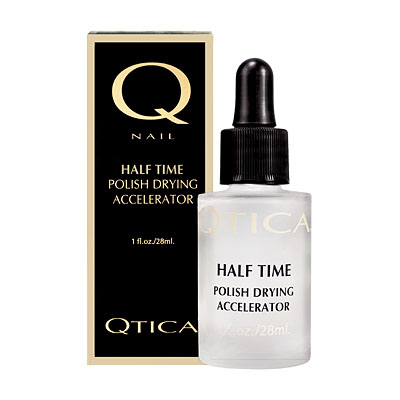 Qtica Half Time Polish Drying Accelerator 1oz
Description
The Qtica Half Time Polish Drying Accelerator is formulated to thoroughly dry all layers of top coat, nail polish and base coat to the touch in minutes. The 1oz size is great for professionals or at home use.
Say good bye to nail polish dents, bubbles, smudges and streaks on your tips and toes forever with Qtica Half Time Polish Drying Accelerator. Our patented combination of advanced silicates work by evaporating solvents from all layers of nail polish, dramatically accelerating drying time and fusing all layers together for better durability and longer polish wear. Manicures dry in five minutes, pedicures in 10 ; from base coat to top coat preventing any bubbles or dents. No more smudging, denting or streaking.
Instructions
Professional use: Following topcoat tilt nails downward and apply one to two drops at base of nail, let spread naturally. Home use: Follow professional instructions.
Ratings & Reviews
5

Review

s

Please sign in to write a Review



poisonivy1162000
Location-MD
Consumer Review
Qtica Half Time Polish Drying Accelerator 1ozAwesome Job
2012-12-01
I received a sample of this in a previous order. I didn`t think it would work for me but I was wrong. It worked perfectly. I was able to get dressed and head out 10 minutes after applying the drops. I recommend this and will repurchase when I run out!!
Jayeno
Location-Manhattan, NY
Consumer Review
Qtica Half Time Polish Drying AcceleratorThe BEST on the Market
2012-09-29
My manicurist has been using the Qtica Half Time Polish Drying Accelerator on my nails for years. I LOVE love love this product. I can have her put it on and walk out of the salon. No joke. I am extremely careful with the way I use my fingers and nails. It astounds her that I never smudge. If someone walks into me whom I cannot avoid, that is another story, but that seldom happens. I have turned many a friend onto this product. Qtica gets an A for effort in producing this product. Hooray!
Qtica Half Time Polish Drying Accelerator 0.25ozAwesome Product!
2011-07-22
I have used this product for years. Its easily one of my favorite products as it dries my mani or pedi within minutes. I only wish it was easier to buy a refill instead of continually purchasing the bottle.
Qtica Half Time Polish Drying Accelerator 0.25ozThis really works!
2011-07-04
I tried this on a whim and I was delighted to find out it really works! I star off for price because I am going through it pretty fast.
NailCrazy
Location-Denver, CO
Consumer Review
Qtica Half Time Polish Drying Accelerator 0.25ozHalfTime
2010-05-28
This product is so amazing. I am really impatient with my nails drying, so impatient that painting my nails was a pain. Thank god for these drying drops. They dry my nails in about 5 minutes! I used base coat, 2 layers of Zoya Nail Polish, and the top coat. I know the bottle looks small too, but it goes a long way.
Add a Review
Review Guidelines
We want to publish your review.

Please avoid inappropriate language, personal contact information, other brands, and external links.