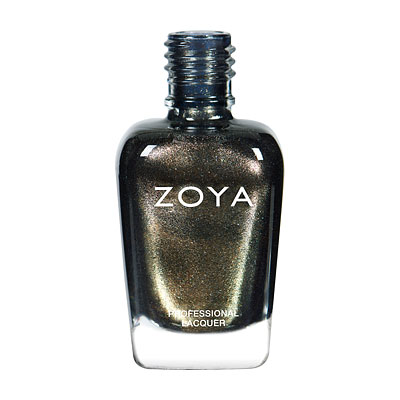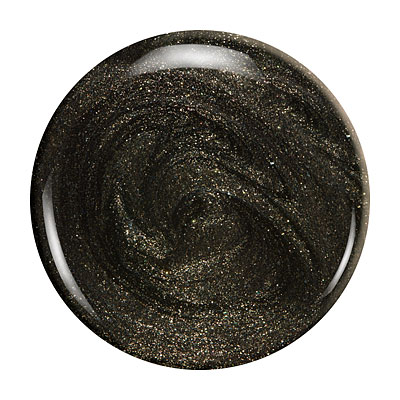 Description
Edyta by Zoya can be best described as a complex mixture of gold, olive, blue-green and smoky grey with a sparkling metallic finish. A dark shade balanced with sparkle for a dramatic look.
Nail Polish
Color Family:
Green, Gray
Finish:
Metallic
Coverage:
2 - Coat Coverage
Tone:
Cool
Instructions
For Best Results
Step 1: Clean the nail plate with Remove Plus ( Remove ) nail polish remover and nail plate cleaner
Step 2: Choose and apply the right base coat: Zoya Anchor for regular healthy nails or Zoya GetEven for nails with ridges
Step 3: Apply 2 coats of your favorite Zoya Nail Polish Color
Step 4: Apply a coat of Zoya Armor Top Coat
Step 5: Drop one drop of Zoya Fast Drops to the base of your nail bed
Following these 5 steps guarantees up to 14 days of wear on natural nails.
Shade Spotlight
Shade Spotlight Join our community - Tag your photos #EverydayZoya for a chance to be featured here!
View the Gallery
Ratings & Reviews
16

Review

s

Please sign in to write a Review



MaddisonP
-Omaha,NE
Consumer Review
-Edyta
2016-05-13
Beautifully complex & edgy, Edyta is a perfect winter/fall shade. Constantly changing in the light, it`s so unique & definitely not boring. I have gotten so many compliments with this shade. I had no problem with the formula as well. Went on so smooth & 1 coat would`ve done it had I not smudged one of my other nails, so I had to do 2 coats. Very highly recommended color! If you want to feel dark, powerful, sexy, alluring, bewitching, & mysterious definitely pick up Edyta.
Zoya Nail Polish | Edyta Edyta
2012-04-24
Edyta is, above all else, unique. I would describe it as a deep olive-green, with a strong gold undercurrent. Personally, I don`t see any of the blue-green or grey mentioned in the description listed.
neverbuyumbrellas
Consumer Review
Zoya Nail Polish | EdytaBeautiful, but Stains!
2012-03-20
This is a gorgeous color that covers in a single coat. Unfortunately, it stains worse than any other color I`ve tried. Using Anchor first will keep it from staining your nail, but the blue-green base color will even stain your skin during removal.
melissaneumeister
Location-Rochester
Consumer Review
Zoya Nail Polish | EdytaEdyta - Review
2012-02-16
This color is amazingly complex! I`m normally NOT a green polish wearer, but I couldn`t turn this down. It looks amazing when the light hits it, and shimmers beautifully!
Zookoe
Location-Boston
Consumer Review
Zoya Nail Polish | EdytaI LOVE this color!
2012-02-04
This is the most beautiful, unique shade. I was afraid it would clash with my wardrobe, but it complements just about anything I wear it with. I can`t express how cool it looks.
Delamaine
Location-Seattle Eastside.
Consumer Review
Zoya Nail Polish | EdytaColor not as expected
2012-02-01
I got a color spoon; it looked like a great gold-flecked dark army green. Saw the bottle at Ulta, so I picked it up instead of ordering from Zoya. Today I stripped off my "Sarah" and put on "Edyta," and under the incandescent light on my desk it looked awesome, like the glitter was actually multicolored. Unfortunately in real light, it looks like a frost gunmetal gray. Not at all what I was looking for. I`ll try a fleck coat over top tomorrow to see if it looks any better, but this is not floating my boat.
Zoya Nail Polish | EdytaFirst Zoya Nail Polish!
2011-12-18
A darker olive green with tons of gold shimmer. I saw this at Ulta and had to try it! Not disappointed.
Zoya Nail Polish | EdytaMy favorite green from Zoya
2011-11-11
I have 5 other Zoya greens and this one is my favorite. It`s not too loud, not too dark. The shimmer makes it stand out. I feel as though it`s the most neutral green...meaning I can wear a lot more things with it and it will still match.
bigfat_baby
Location-HI
Consumer Review
Zoya Nail Polish | EdytaInteresting color
2011-03-19
This truly is an interesting color. It`s hard to describe using words. At first glance, it looks almost soft black. Upon seeing it closer, it`s a dark green/olive, with subtle gold shimmers. It looks a little bit like nori (Japanese dried seaweed) lol. My only dislike is that upon removing the polish, it stained my nails and skin blue.
pandora`s, box
Consumer Review
Zoya Nail Polish | EdytaEdyta is yummy
2011-02-22
Elle est comme un sapin de Noel glacée
@RVSNewark
Location-Metro NY/NJ
Consumer Review
Zoya Nail Polish | EdytaA Rich, Personality-filled Moody Green
2010-12-10
This is a lovely color, I`m currently wearing it. It was the 1st color that caught my eye amongst a sea of Zoya colors-It`s quite intriguing. Looks excellent against tanned/brown skin!; Almost has a luxe camouflage effect. Color is a complex forest green with teeny micro sparkles of very subtle golden/shimmer sheen - which gives the color increased dimension. Yet, this can still be worn at work to give off a slightly edgy, modern vibe w/o being too overt.
Aimee
Location-NW Ohio
Consumer Review
Zoya Nail Polish | EdytaUnique and Surprising
2010-12-07
I bought the entire wicked collection but wasnt sure if I would like Edyta, although I had heard amazing reviews. I was worried the color would come off masculine. Masculine or not (I dont think it is) the color is a mix of gun metal, olive green, and gold that I have never seen before. I think it makes for a neutral tone that is good for the fall and winter seasons.
Michelle
Location-Bend, Oregon
Consumer Review
Zoya Nail Polish | EdytaGorgeous!
2010-11-10
This is my new favorite! It has a good formula and looks great! It is almost black in some light and a great dark green with gold sparkles in other light. LOVE IT!
olga.nikiforov
Location-Vancouver, WA
Consumer Review
Zoya Nail Polish | EdytaAmazing green with perfect sparkle.
2010-11-01
I ordered 8 nail polishes and this is my favorite by far! Perfect green.
GabitaG
Location-Chicago
Consumer Review
Zoya Nail Polish | EdytaBeautiful and so different
2010-10-05
I bought 10 different colors for fall and winter and this is by far my favorite!
Edyta is a dark green, almost gunmetal color with sparkles galore.
Darker colors sometimes look too "goth" for work. Not so for this one. Can`t wait to wear it at work.
Looove it!
gita75
Location-DC
Consumer Review
Zoya Nail Polish | EdytaBeautiful!!
2010-09-23
Edyta is part of my first order from Zoya. I tried it with the Lock system today and my nails look great! The color is so unique and chic at the same time. It`s appropriate for business with short, modern nails yet cool and edgy!! I LOVE the color! Now I have to see if the manicure lasts :)
Add a Review
Review Guidelines
We want to publish your review.

Please avoid inappropriate language, personal contact information, other brands, and external links.