Professional Accounts
Licensed salon & spa professionals can set up a Professional Account which entitles them to professional only pricing, professional only promotions and additional educational and marketing resources available to our salon & spa customers.
If you already have a Professional Account with us, please sign in below with your email and password in the "Sign In to My Professional Account" section.
To create a Salon - Spa Professional Account, please enter your email and a valid Cosmetology License in the section called "Create a Professional Account" below and click the "Create Account" button. You will then be asked for additional information.
Sign In to Your Professional Account
Create a Professional Account
Welcome!
Please Choose One:
Or

tell us
what
you think!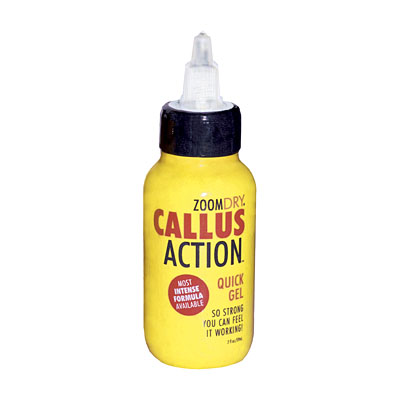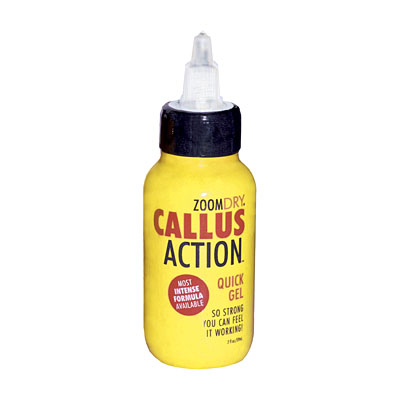 Callus Action Quick Gel 2oz
What is Zoom Callus Action
Get Tough! Use NEW ZOOMDRY CALLUS ACTION
QUICK GEL to smooth rough callused feet fast.
TARGET PROBLEM SPOTS WITH THE CALLUS ENEMY!

* Conditions calluses for removal with file in 3-5 minutes
* So strong you can actually feel it working
* Convenient, easy-to-use squeeze dispenser
* No drip, quick gel professional formula

So Strong You Can Feel It Working!

Professional, drip-free, gel formula applies easily to soften and prepare calluses for quick file removal.

Soak feet, apply CALLUS ACTION liberally over calluses.
Allow quick gel formula to penetrate problem areas for 3-5 minutes. Wear gloves or wash hands immediately after application. Wipe away excess and file gently to remove calluses. Thoroughly Wash Entire Foot with water after use.
CAUTION: Wash all exposed skin immediately after use. Avoid contact with skin 0ther than callused areas.
Average Rating
Write a Review
Read Reviews( 2 )
Lend Us A Hand!
Have this shade? Help us build our community of color by tagging your photos
Submit a Pic
View the Gallery
Shade
Spotlight
Join our community - Tag your photos
for a chance to be featured here!
View the Gallery
Click below for more pictures of this shade!
Summary:
2 Review(s)
Question(s) & Answer(s)
Ask a Question
8/15/2011
CM
Callus Action Quick Gel 2ozThe best
My feet are so smooth after using this stuff! It works wonders!
11/28/2010
puakotoots
Location-Island of Hawaii
Callus Action Quick Gel 4ozamazing
this is the most amazing callous remover I`ve ever used. Yes you can feel it work, and yes, 3-5 minutes is all it takes. Leaves your feet soft and smooth. If you`ve tried the rest with litlle or no results you`ll be amazed.
Your Review of Callus Action Quick Gel 2oz