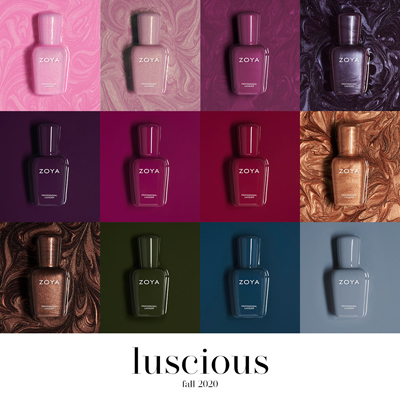 Description
The Luscious Bundle is a limited edition set that includes the following: Wanda (ZP1046), Patrice (ZP1047), Teresa (ZP1048), Andrea (ZP1049), Bentley (ZP1050), Sharon (ZP1051), Lisa (ZP1052), Soleil (ZP1053), Tasha (ZP1054), Mel (ZP1055), Lou (ZP1056), and Tommy (ZP1057) in full size 0.5fl oz bottles.
This set also includes a Gelie-Cure Retail Kit (ZTGCF0RTLR) and 12 Z-Wide Brushes (ZTCPBR001FL).
Value of Set is $189 .
The Luscious Bundle is available at the special price of $99 and will increase to $120 on Monday, 8/17/20.
Shade Spotlight
Shade Spotlight Join our community - Tag your photos #EverydayZoya for a chance to be featured here!
View the Gallery