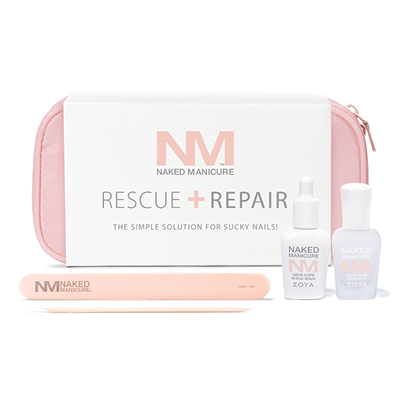 Size:
Rescue and Repair Kit
Description
Included in the kit is the following: Naked Manicure Rescue Serum in 0.5oz bottle (ZTGCRS01), Naked Manicure Repair Base Coat in 0.5oz bottle (ZTGCRB01), Pink Cosmetic Bag, 3-Way Nail File (ZTGCF3W1), and one Orange-Wood stick.



The first ever micronized nail treatment for strong, healthy-looking nails is made from natural oils, fibers & fillers, and pH conditioners to be rubbed directly into the nails and sealed with a clear nail polish. It mimics the nail's natural sebum to reinforce the strength and flexibility of the nail's keratin fibers, so you can lock in the benefits up until your next manicure change. See and feel the difference in your nails with increased polish wear.

So, if you need a solution for nails that are damaged, breaking, peeling, or need to recover after years of gels or acrylics, consider yourself lucky! The Naked Manicure Rescue Repair will stop your nails from being sucky!

Nails can suck for many reasons. Sometimes it's damage from constant application, scraping and removal of gels or acrylics, or sometimes it's because your environment, activities and climate can destroy the keratin that gives your nails their strength and flexibility.

No matter the reason, we can fix it and instantly improve the appearance and condition of your nails. Best of all, this PATENTED system makes it simple.
Instructions
Step 1: Prep the Nail
Use the provided nail file to shape nails and smooth any free-edge separation. File using an upward motion from underneath the nail to remove any residue, and downward to seal. Make sure to remove any stray dust. Clean all nail beds with Remove . This is the only prep needed.

Step 2: Rescue Serum
Apply a pea-sized amount of the Rescue Serum to one fingertip; use half the amount for each hand. Distribute evenly among fingernails and massage in until absorbed. Rub to dry, do not wash off.

Step 3: Repair Base
Apply a thin coat of the Repair Base directly on top of the Rescue Serum.
Shade Spotlight
Shade Spotlight Join our community - Tag your photos #EverydayZoya for a chance to be featured here!
View the Gallery