Page top
Skip top navigation
Professional Accounts
Licensed salon & spa professionals can set up a Professional Account which entitles them to professional only pricing, professional only promotions and additional educational and marketing resources available to our salon & spa customers.
If you already have a Professional Account with us, please sign in below with your email and password in the "Sign In to My Professional Account" section.
To create a Salon - Spa Professional Account, please enter your email and a valid Cosmetology License in the section called "Create a Professional Account" below and click the "Create Account" button. You will then be asked for additional information.
Sign In to Your Professional Account
Create a Professional Account
Welcome!
Please Choose One:
Or
Back to top
feedback
tell us what you think!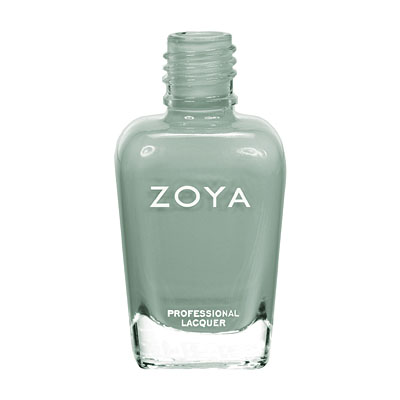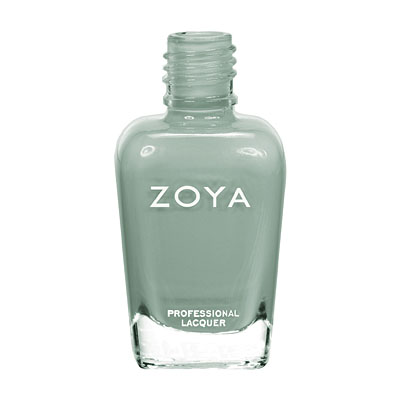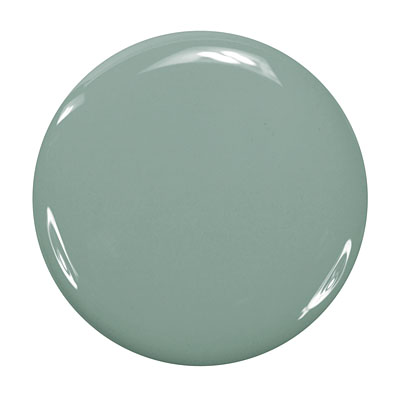 Bevin by Zoya can be best described as a dusty, medium sage green with teal tones and a creamy opaque finish. A stylish and unique shade for when you want something different from the usual mint green.
Color Family - Green
Finish - Cream
Intensity - 5 (1 = Sheer - 5 = Opaque)
Tone - Cool

For Best Results
Step 1: Clean the nail plate with Remove Plus ( Remove ) nail polish remover and nail plate cleaner
Step 2: Choose and apply the right base coat: Zoya Anchor for regular healthy nails or Zoya GetEven for nails with ridges
Step 3: Apply 2 coats of your favorite Zoya Nail Polish Color
Step 4: Apply a coat of Zoya Armor Top Coat
Step 5: Drop one drop of Zoya Fast Drops to the base of your nail bed
Following these 5 steps guarantees up to 14 days of wear on natural nails.
Shade Spotlight
Shade Spotlight Join our community - Tag your photos #EverydayZoya for a chance to be featured here!
View the Gallery
Ratings & Reviews
Summary:
14 Review(s)
Question(s) & Answer(s)
6/3/2014
ambattistone
-Norfolk, Ma
-pale turquoise
I see this is listed under green, but I consider it turquoise - almost like a Kingman turquoise from NM. It`s feminine and edgy at the same time. Wears beautifully, and opaque in 2 coats, though I like 3. This doesn`t look much like what you see online. For a color company, the images should look closer to reality.
12/5/2012
pinksage
Location-Washington, DC
Zoya Nail polish | BevinGorgeous!
This color is just beautiful. It is a striking color, but because the creaminess tones it down a bit, it is not overbearing at all. I was complimented the first day I wore this color. My skin is a medium brown and it looks great on me.
8/22/2012
Nicole
Location-Chicago, IL
Zoya Nail polish | BevinWell played, Zoya
Bevin is great! It has enough color to stand out, but not so much to the point where it can`t be worn in the office. I have fair, warm-toned skin and am very picky about the colors I put on my nails because I don`t want my skin to look totally washed out, but this color compliments my skin perfectly!
7/29/2012
megan_is
Location-Columbus
Zoya Nail polish | BevinBevin is Great!
This is my first zoya product, and it made me a huge fan of the company! Fabulous, saturated color in 1 coat. Love it!
7/5/2012
kaseyu92
Location-Texas
Zoya Nail polish | BevinMinty green
For me it is a minty green, which wasn`t what I was expecting- but it`s awesome!
The polish goes on very smoothly, I only put one coat on.
6/15/2012
K Hun.
Location-Cleveland, OH
Zoya Nail polish | Bevin Better color than I expected
One of my new go-to colors. Great mix between green and blue. It comes out a bit darker than the bottle looks, which is nice.
4/25/2012
Cyesse
Location-Orlando, FL
Zoya Nail polish | BevinLove Bevin !!!
Excellent coverage, love the shade.
4/24/2012
CupKat
Zoya Nail polish | Bevin Bevin
I normally prefer metallics to creamy shades, but I received Bevin in a Birchbox and had to try it out. It was a very lovely pistachio green that felt just right for spring.
4/16/2012
sarahlooby
Location-Southern Cali
Zoya Nail polish | BevinOh Bevin!!
Love this minty green color! I had to have it when I saw it and it was a great purchase for me. Looks awesome against my fair skin.
4/12/2012
LizSaysSo
Location-Boston, MA
Zoya Nail polish | Bevin Bevin`s a beaut!
When I first saw Bevin online, I thought I would hate it. I have neutral-toned pale-as-the-dickens skin, and the swatches of Bevin that I saw looked like they would make my skin appear grey or sallow in contrast.
I received a sample of Bevin through a beauty subscription service I use, and I was honestly a bit bummed that they had sent me this color. I reluctantly swatched it once, and I`m hooked! While I own several periwinkle blues and mint greens, I own nothing similar to the muted khaki/sage green of Bevin (and I actually think Bevin is more wearable than either of those two light, cool-toned options). It`s very appropriate for Spring, but I could see myself wearing it in Fall and Winter, as well. It`s like mint green`s sophisticated, cocktail party-ready older sister!
Two coats are more than sufficient for complete opacity, and I have no issues with application, streaking, bubbling or wear. I would recommend this color to practically anyone.
4/7/2012
Rola
Location-USA
Zoya Nail polish | BevinToo Blue!
This polish is more blue than I was expecting. It`s still a pretty color, but I was hoping for more of a neutral-ish green.
3/28/2012
ixara415
Zoya Nail polish | BevinOh Bevin
I looked up swatches online before I bought this and I loved the color, but when I finally got it and painted it on my nails it looked a LOT darker! It`s still a nice color but would have preferred the actual color featured online.
3/17/2012
PRB
Zoya Nail polish | BevinFun
Love this color- be prepared for comments and complements from strangers. Looks glossy and rich- definitely more green than photo. A med bluish teal that looks good on fair skin.
2/6/2012
shamarnica
Location-NC
Zoya Nail polish | BevinAbsolutely gorgeous
I *love* this shade of green, but I noticed that other polishes in this color are really bright, which gives me obnoxiously green nails. Not with this one! "Dusty" is an apt description as the green is gorgeous but very subdued, compared to other. I think of this of more of a aquamarine leaning on green than sage green, but either way, it`s beautiful! Color goes on smoothly, and it takes only 2 coats to get on nicely. A great addition to the world of aquamarine nail polishes!
Back to top