Page top
Skip top navigation
Professional Accounts
Licensed salon & spa professionals can set up a Professional Account which entitles them to professional only pricing, professional only promotions and additional educational and marketing resources available to our salon & spa customers.
If you already have a Professional Account with us, please sign in below with your email and password in the "Sign In to My Professional Account" section.
To create a Salon - Spa Professional Account, please enter your email and a valid Cosmetology License in the section called "Create a Professional Account" below and click the "Create Account" button. You will then be asked for additional information.
Sign In to Your Professional Account
Create a Professional Account
Welcome!
Please Choose One:
Or
Back to top
feedback
tell us what you think!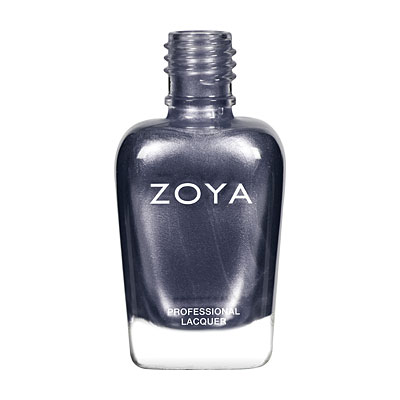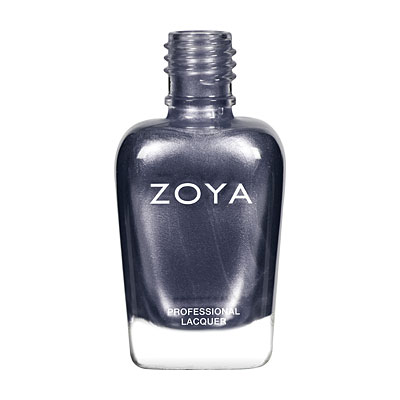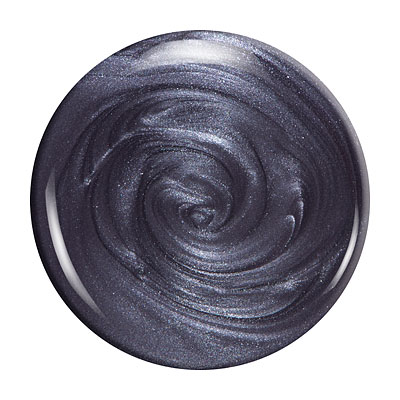 Freja by Zoya can be best described as a smoky, shimmering gunmetal gray with hints of blue and sprinkled with silver. A smoldering, sexy shade that's the polish equivalent of the smoky eye.
Color Family - Grey
Finish - Metallic
Intensity - 4 (1 = Sheer - 5 = Opaque)
Tone - Cool

For Best Results
Step 1: Clean the nail plate with Remove Plus ( Remove ) nail polish remover and nail plate cleaner
Step 2: Choose and apply the right base coat: Zoya Anchor for regular healthy nails or Zoya GetEven for nails with ridges
Step 3: Apply 2 coats of your favorite Zoya Nail Polish Color
Step 4: Apply a coat of Zoya Armor Top Coat
Step 5: Drop one drop of Zoya Fast Drops to the base of your nail bed
Following these 5 steps guarantees up to 14 days of wear on natural nails.
Shade Spotlight
Shade Spotlight Join our community - Tag your photos #EverydayZoya for a chance to be featured here!
View the Gallery
Ratings & Reviews
Summary:
16 Review(s)
Question(s) & Answer(s)
2/27/2016
B. Star
-Colorado
-LOVE This Color!
I just got my first shipment of Zoya colors and this was the first one I tried. I had some issues applying it over the Zoya base, but when I applied it directly, sans the base coat, it went on so smoothly and I love it. Three coats gives a really rich, deep hue to it. It looks like hematite.
12/27/2012
Zia
Location-NY
Zoya Nail Polish | Freja dramatic and elegant
Interesting dark steel gray with shimmer. Nice winter option. I don`t know why it has intensity 4. One coat was enough. I did two just because I am used to doing that.
11/29/2012
SSC123
Zoya Nail Polish | FrejaNot for me!
Didn`t like the coverage or color of this one.
11/7/2012
LeeW
Location-South Jersey
Zoya Nail Polish | FrejaArmor
This is liquid steel, like the shiniest of armor from the knights of the old days. It`s got that undeniable medieval quality with a modern shimmer to take it to another level. It gives a tough look but super elegant. Really beautiful!
8/26/2012
Lori
Location-Oregon
Zoya Nail Polish | FrejaSophisticated
This is a beautiful color. Dark grey with a nice shimmer. Very dramatic.
5/17/2012
K Hun.
Location-Cleveland, OH
Zoya Nail Polish | Freja True to the bottle color
I like this one a lot. It is very versatile and, I agree, a nice gunmetal silver/grey.
On another note, Zoya polishes work great. Other nail polishes I`ve used chip after a day, but Zoya can hang in there for a good 2-4 days. It`s a beautiful thing, my friends.
4/24/2012
CupKat
Zoya Nail Polish | Freja Freja
I have been searching for the perfect gunmetal grey and I finally found it in Freja. It manages to be simultaneously elegant and fun.
2/16/2012
elmobuddy911
Location-OR
Zoya Nail Polish | Frejaso edgy
its a beauteous color. no, really. it sounds like it would be strange but because of the nice rating i got it, and of course, i agree.
1/21/2012
Caroline
Location-Baltimore
Zoya Nail Polish | FrejaGood quality, beautiful color.
I use just the nail polish, no base/top coat because I can`t really afford them at the moment with shipping being a good $7, and the nail polish chipped when I was cleaning my earrings... I wouldn`t say it`s any better or worse quality than anything else.
I also don`t notice a difference in how "natural" this nail polish is, considering this was rated one of the top 3 best natural nail polishes, omitting those 3 awful poisons from the formula. However, it still stinks just like any other nail polish. I saw another brand that was supposedly odorless. Time to try that next.
The color is a deep, classic gunmetal. My wardrobe is 90% gray and graytones, so this polish literally goes with everything I wear. Goes on nicely with just two coats.
1/5/2012
MJ
Location-Wonderland!
Zoya Nail Polish | Freja Love Me Some Freja!
Must have addition to any polish stash. This is an awesome girls night out color or just because. Excellent after just one coat.
3/9/2011
Lindsay
Location-ct
Zoya Nail Polish | FrejaJust as pictured :)
I was very impressed with Freja. It`s a beautiful, shiny gun metal color. Freja looks exactly how it is pictured in the bottle online. This color is fun and versatile. I absolutely love it!
3/8/2011
Jillighting
Location-Atlanta, GA
Zoya Nail Polish | FrejaSo classy!
Looks SUPER elegant and classy on, while still being a little "different". I`ve had a ton of people comment on my nails with this color.
It`s a little bit lighter than the swatches on the website.
3/4/2011
Garden Elf
Location-Cape G, MO
Zoya Nail Polish | FrejaAbsolutely Elegant Gun Metal
This is a really elegant gun-metal gray. -Fantastic character to it. Goes on & wears great. Polish doesn't last more than 1-2 days on me (on the hands), -but that's me more so than the polish, so when it does last there's something really positive to be said about it.
Me: Pale Face (aka: 'Kerrie' in Monave), -tend to wear cools, and I can wear this confidently & comfortably, -it's not garish at all and suits me perfectly. LOVE IT.
Do you do this in a Sapphire &/or an Amethyst?
1/28/2011
swimmer33079
Zoya Nail Polish | FrejaGunmetal Gray/Silver
Love it! I was looking to the perfect gunmetal gray/silver. Super cute!
1/23/2011
nt
Location-SoCal
Zoya Nail Polish | FrejaIMPRESSED
Like the description says, this is like a smoky eye. I don`t know how to explain it, but it truly IS! Applied like a dream, beautiful in any light, neautral yet very sexy. I adore it.
1/9/2011
Lola
Zoya Nail Polish | FrejaAmazing
someone stopped & told me it was a beautiful color & that never happens.
Back to top