Page top
Skip top navigation
Professional Accounts
Licensed salon & spa professionals can set up a Professional Account which entitles them to professional only pricing, professional only promotions and additional educational and marketing resources available to our salon & spa customers.
If you already have a Professional Account with us, please sign in below with your email and password in the "Sign In to My Professional Account" section.
To create a Salon - Spa Professional Account, please enter your email and a valid Cosmetology License in the section called "Create a Professional Account" below and click the "Create Account" button. You will then be asked for additional information.
Sign In to Your Professional Account
Create a Professional Account
Welcome!
Please Choose One:
Or
Back to top
feedback
tell us what you think!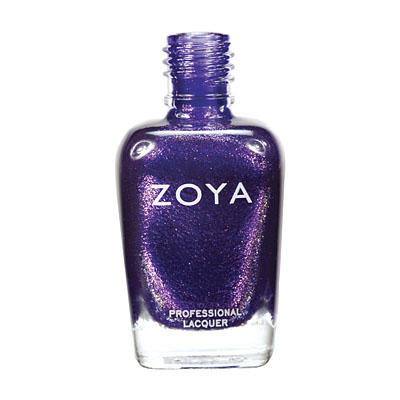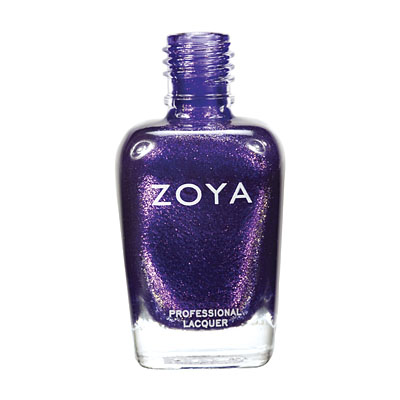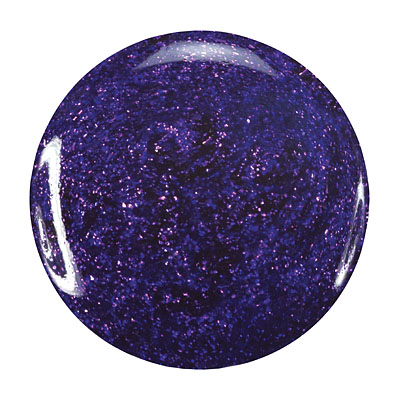 Mimi by Zoya can be best described as a royal purple sparkling metallic with cool undertones.
Color Family - Purple
Finish - Metallic
Intensity - 5 (1 = Sheer - 5 = Opaque)
Tone - Cool

For Best Results
Step 1: Clean the nail plate with Remove Plus ( Remove ) nail polish remover and nail plate cleaner
Step 2: Choose and apply the right base coat: Zoya Anchor for regular healthy nails or Zoya GetEven for nails with ridges
Step 3: Apply 2 coats of your favorite Zoya Nail Polish Color
Step 4: Apply a coat of Zoya Armor Top Coat
Step 5: Drop one drop of Zoya Fast Drops to the base of your nail bed
Following these 5 steps guarantees up to 14 days of wear on natural nails.
Shade Spotlight
Shade Spotlight Join our community - Tag your photos #EverydayZoya for a chance to be featured here!
View the Gallery
Ratings & Reviews
Summary:
8 Review(s)
Question(s) & Answer(s)
10/3/2012
aminal
Zoya Nail Polish | MimiPretty, but Stains
I do love a shimmery purple. The size of the sparkle in this one is just bordering on being too large for me, but not quite. (Too large is when the color is like sandpaper glued to my nails when I try to remove it.) This is a true amethyst color, I would say, neither leaning reddish (plummy) or bluish (violet-y).
But. Had it on for TWO days (then had to take it off for a conservative meeting), and my nail was STAINED! A pinky-plum color, fairly pale, but definitely noticeable.
I did my usual base coats that I use w/all my polishes, including Zoya`s. I`ve never had a Zoya polish cause staining problems before, so I was quite surprised, and disappointed. (Also tried Charla, from the same "Sparkle" collection, for the same 2 days -- and had a staining problem w/it, too, although the blue tinge to my nail wasn`t quite as noticeable as w/Mimi, because the slight blue countered my pink-peach nail bed, where the Mimi pink-plum deepened the normal pink of my nail bed.)
Very disappointed, because I had waited so long to finally be able to try on these actual polishes. But, because of the staining, both went right back where I bought them from.
1/2/2012
Hannah
Location-Santa Rosa, CA
Zoya Nail Polish | MimiNot exactly a 5.
The opacity of this shade was definitely not a 5. I had to do 4 coats for it to be totally opaque like I was wanting. Usually my other Zoyas that are a 5 are almost completely opaque in one coat. Regardless, it`s a gorgeous colour, so it gets a 4/5 rating from me.
12/3/2011
summers
Location-louisville, ky
Zoya Nail Polish | Mimiroyal purple awesomeness
mimi is a beautiful royal purple color. it compliments cool undertones in skin and has a gorgeous glittery quality to it.
9/20/2011
bigfat_baby
Location-hnl
Zoya Nail Polish | MimiSparkly Royal Purple!
Royal purple with tons of pink glitter. Must have for purple lovers! Opacity in two coats.
8/3/2011
Anita
Zoya Nail Polish | MimiPretty!
This color is so spectacular in the bottle!
It did turn out thinner than I expected, but it`s not too bad because the coats go on so smoothly. It took me 3 coats to get it to look the same on my nail as in the bottle.
5/27/2011
ZBAndMe
Location-San Jose, CA
Zoya Nail Polish | Mimi More purple than the photo shows
Mimi is more purple than the photo shows but still a beautiful bold color. I only needed two coats for full opacity, and the formula goes on nice and smooth. One of the things I really like about this line is the glitter doesn`t feel rough on your nails. Try Zoya, you won`t want to buy any other brand once you do!
7/1/2010
Furbert
Location-USA
Zoya Nail Polish | MimiCrazy Sparkly Purple
Sparkles like crazy in the sun! Three coats covers perfectly.
6/10/2010
Brenda
Location-New York, NY
Zoya Nail Polish | Mimi"Blingy" dark purple
If you are looking for a very sparkly dark purple, this polish is for you! The formula is on the thin side, so it took 3 coats to achieve opacity.
Back to top