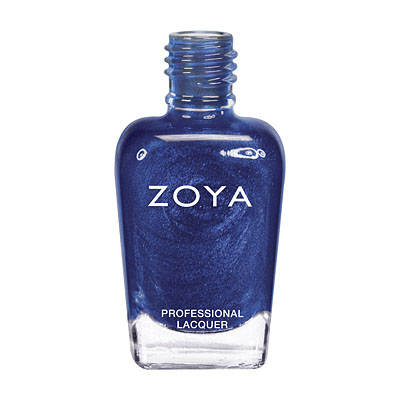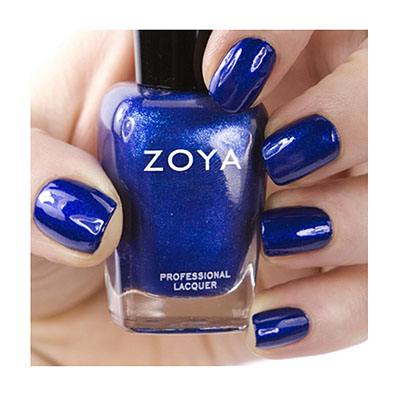 Description
Song by Zoya can be best described as a bold, vibrant medium primary blue with silver and blue glittery metallic sparkle. A very vibrant blue with a glittery finish that's smoother than traditional chunky glitter.
Nail Polish
Color Family:
Blue
Finish:
Metallic
Coverage:
2 - Coat Coverage
Tone:
Cool
Instructions
For Best Results
Step 1: Clean the nail plate with Remove Plus ( Remove ) nail polish remover and nail plate cleaner
Step 2: Choose and apply the right base coat: Zoya Anchor for regular healthy nails or Zoya GetEven for nails with ridges
Step 3: Apply 2 coats of your favorite Zoya Nail Polish Color
Step 4: Apply a coat of Zoya Armor Top Coat
Step 5: Drop one drop of Zoya Fast Drops to the base of your nail bed
Following these 5 steps guarantees up to 14 days of wear on natural nails.
Shade Spotlight
Shade Spotlight Join our community - Tag your photos #EverydayZoya for a chance to be featured here!
View the Gallery
Ratings & Reviews
4

Review

s

Please sign in to write a Review



Audrey
Location-Redmond, WA
Consumer Review
Zoya Nail Polish | SongOut of my comfort zone
2012-09-13
I have always been a bit on the neutral side when choosing my nail colors, but today I stepped out of my comfort zone and I am so glad I did!
Song is deeper than it looks in the bottle, buying a spoon would help illustrate this. It`s more of a deep royal instead of a bright royal. Goes on nicely like all the other Zoya colors. I love this color. It`s not an everyday color for me, but is just plain fun!
Zoya Nail Polish | SongBeautiful deep blue
2012-09-01
This polish is very true to the bottle and the photo online. Its a very deep blue with subtle blue shimmer that has a very very subtle purple undertone. At least, that`s what I see. Dries to a slightly glossy finish (a good top coat brings out the sparkle much more) and wears like iron! A truly beautiful polish if you love deep blues with some texture to them.
Zoya Nail Polish | Songnot what i was hoping for
2012-08-09
i saw swatches of this all over the internet when it first came out and it looked like a bright, vibrant royal blue (including on zoya`s blog). i`m not sure if its because of camera flash, natural light, or what, but when i wear this one it is a very dark navy. it is as dark as the swatches of ibeza i`ve seen. its a pretty dark blue, but not at all what i was hoping for. i`m going to try tart or tallulah and see if that`s closer to what i had in mind. oh, and this color stains skin and nails.
Who Fan
Location-Iowa
Consumer Review
Zoya Nail Polish | SongSong: TARDIS blue - LOVE IT!
2012-08-06
If you are a Doctor Who fan, THIS is TARDIS blue! (I can`t help but wonder if it is named Song for River Song.) I LOVE this color! It is so rich and bright and gorgeous! Buy this color!
Add a Review
Review Guidelines
We want to publish your review.

Please avoid inappropriate language, personal contact information, other brands, and external links.