Professional Accounts
Licensed salon & spa professionals can set up a Professional Account which entitles them to professional only pricing, professional only promotions and additional educational and marketing resources available to our salon & spa customers.
If you already have a Professional Account with us, please sign in below with your email and password in the "Sign In to My Professional Account" section.
To create a Salon - Spa Professional Account, please enter your email and a valid Cosmetology License in the section called "Create a Professional Account" below and click the "Create Account" button. You will then be asked for additional information.
Sign In to Your Professional Account
Create a Professional Account
Welcome!
Please Choose One:
Or
Provide Feedback
$10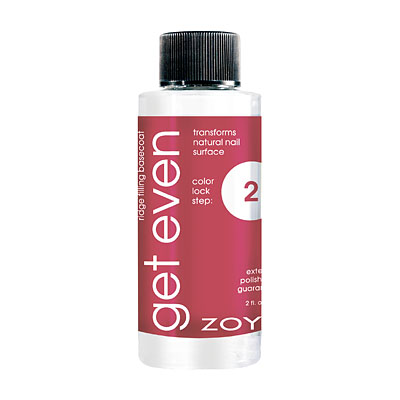 $19.96
Zoya Get Even is an advanced ridge filling base coat, the evens out uneven nail ridges and and holds nail polish in place. Uneven nails need not prevent polish perfection.
Zoya Get Even Ridge Filling Basecoat acts as a smoothing compound for natural nails. It fills in uneven nail surfaces with a dense fiber-like formula that grips the nail plate and creates a smooth surface to insure longer polish wear.
PLEASE NOTE: The 2oz Pro Refill (ZTGE0P) does NOT come with a brush.
Remove residue from nail surface using Remove Plus
Apply One coat of "Get Even" to each nail
Apply 2 coats of yur favorite Zoya Nail Polish Shade
Apply One Coat of Armor Top Coat
Seal and Dry Your Manicure with one drop of Fast Drops on each nail

Average Rating
Write a Review
Read Reviews( 6 )